U.S. Registered mail is the safest public system to transport your precious metals. MJPM exclusively uses U.S. Registered mail. The cost is a little more, however, the security and peace of mind is well worth the additional expense. PUT OUR 40 YEARS OF SHIPPING EXPERIENCE TO WORK FOR YOU AND HAVE YOUR ORDERS TRANSPORTED BY U.S. REGISTERED INSURED MAIL. Our U.S.P.S. Registered Mail Shipping, Handling and Insurance charges as of September 1, 2021.
| | | |
| --- | --- | --- |
| Item | Quantity or Order Value | Shipping |
| Gold or Platinum 1/10, 1/4, 1/2 oz | 10.9 oz total or less | $59.00 |
| Platinum 1 oz | 25 oz's or more | FREE |
| Gold 1 oz | 1 - 11 oz's | $59.00 |
| Gold 1oz | 12 oz's or more | FREE! |
| Silver Rds/Bars | 500 oz's | FREE! |
| 90% Silver Coin | $1,000 Face Value | FREE! |
| Rare Coins or Coin Jewelry | Over $1,000.00 | FREE |
Thinking of selling your rare coins or precious metals? Please call us at 1-800-279-4337 and receive current real-time prices!
SELLING GOLD, SILVER, PLATINUM, OR PALLADIUM ONLY TAKES A MOMENT OF YOUR TIME!...simply call us for current prices for the items you wish to sell and upon your acceptance a confirmation number confirming your transaction (your confirmation number >>>locks-in and guarantees<<< your prices) will be given to you. IMPORTANT: YOUR PRECIOUS METALS/BULLION ITEMS MUST BE SHIPPED THE SAME DAY OF YOUR TRADE AND PROVIDED MJPM WITH THE PACKAGE TRACKING NUMBER.
Did you know Michael has been a full-time professional numismatist since 1982, a coin collector since 1960 and is a lifetime member of the American Numismatic Association. If you are interested in selling your coin collection, give Michael a call. We encourage you to avoid paying the high price for a rare coin appraisal by a firm with a "rare coin expert." Michael attends most major coin shows throughout the U.S. and has an impressive client list of rare coin and currency collectors (we can pay you more for your coins). We are in constant need of coins for our inventory and are willing to pay extremely competitive market prices to buy them. You can have absolute confidence knowing that Michael will personally evaluate every coin and call you within 48 hours with the best prices. Since 1985, we have paid top dollar for nice collector and investment coins and collections!
FOR YOUR SECURITY WE RECOMMEND shipping your items by U.S. REGISTERED MAIL. This method offers both insurance and tracking of your package (refer to our HOW TO SHIP section below).
We reserve the right to return any coin/s determined to be altered, counterfeit, spotted, damaged, excessively worn or having questionable authenticity.
***PLEASE!*** Sort your 90% silver coins by denomination into separate bags. Coins in tubes should be securely taped (silver rounds/eagles/dollars).
WHEN YOUR PACKAGE ARRIVES AT MJPM, IT WILL BE PROCESSED AND YOUR CHECK MAILED WITHIN 24 HOURS more often than not on the same day. WE BELIEVE THIS IS THE BEST TURNAROUND TIME IN THE INDUSTRY.
Payment is made out to the individual who both was given the confirmation number and made the transaction over the phone.
MJPM is an extremely competitive buyer for all brand name gold, silver, platinum, and palladium coins and bars, rare coins and paper money.
We really do pay more!

1-800-279-4337
WE RECOMMEND U.S.P.S. REGISTERED MAIL. Shipping your coins is easy and only takes a moment of your time. We recommend sending your precious metals, coins, currency, and other valuables with a package value over $500.00 by United States Postal Service (U.S.P.S.) Registered and Insured Mail. The U.S.P.S. is the proven safest method and importantly allows you to fully insure your items. Registered packages must be sealed with paper tape covering all seams on box. Be sure to secure your items so they do not rub against one another or rattle when the box is handled.
OUR RECOMMENDATION ON SHIPPING HEAVY BOXES. For heavy or bulk shipments, we recommend obtaining a U.S.P.S. Priority Flat Rate box from the Post Office (see photo below). They offer a couple of box size choices, we recommend the box that measures approximately 12" x 10" x 6" deep and when sealed/taped properly will hold as much as 60 pounds! The flat rate box can be shipped with insurance AND registration or just insurance for an additional charge. To ship 60 pounds of silver fully insured by U.S. registered mail costs around $39.00, its the best deal on the planet for insured/trackable shipping!
If we can answer any questions about your shipping, please call us at 1-800-279-4337, and we will be happy to assist you.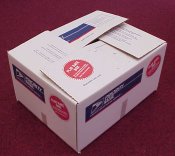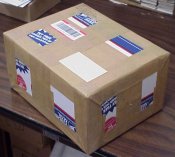 PLEASE! Do not order if you are not ready to make a legally binding contract. Additionally, if you are buying from MJPM, be sure your form of payment funds are available for deposit upon delivery to MJPM. All payments for goods sold by MJPM are deposited upon receiving to expedite your order. There are NO CHANGES, CANCELLATIONS or REFUNDS once you have received a confirmation number.
MJPM assumes no liability for I.R.A. Precious Metals Investment Directions. The I.R.A. Owner must confirm all transactions with MJPM Incorporated with a confirmation number and have prepaid the account in full. All I.R.A. Precious Metals Investment Plans must be approved and prepaid in advance by MJPM Inc.
OUR SHIPPING PROCEDURE: To ensure the integrity and content of your order, your items are individually checked out from the vault, double counted (our 90% silver coin is machine counted twice), prepared and signed off by two senior staff members and packaged in a highly secured environment.
As with any investment, MJPM Incorporated accepts nor assumes any liability, whatsoever, for your precious metals, rare coin and/or currency investments. Due to the volatility of the gold, silver, platinum and palladium commodities markets, rare coin market and currency markets, investment can be extremely risky. The customer understands and accepts full responsibility that performance is at your own risk.
All merchandise remains the property of MJPM.com until paid for with good verifiable funds in full, and is subject to our order and shall be returned to us on demand. This merchandise, until returned to us and actually received, is at your own risk, from all hazards. No right or power is given to you to sell, pledge, hypothecate or otherwise dispose of this merchandise until paid for in full.
We have taken every precaution to provide the most accurate information and data/pricing possible. However, it is provided without warranty or claim of reliability. MJPM Inc. will not be held responsible for any typographical or verbal errors in pricing, data, or other printed or verbal out dated material. It is accepted by the site visitor on the condition that errors or omissions shall not be made the basis for any claim, demand, or cause for action. The information and data/pricing were obtained from sources believed to be reliable, however, we do not guarantee its accuracy.
All collector coin and currency prices are indications only and are confirmed upon availability and current market price.
Pre 1933 U.S. Gold Coins rated C. Unc. (commercial uncirculated); condition ranges from AU55 - MS60. All U.S. gold coin prices are based on market indications at the time of trade. All U.S. gold coins are guaranteed genuine and all sales are final. Note: if you are interested in a specific grade/condition, for example; MS63 = mint state 63, we recommend buying "third-party" graded coins by PCGS or NGC found on our GOLD PAGE. If you do not see what your looking for - please call us! 1-800-279-4337 we can help.
There is NO SALES TAX IN OREGON. All sales tax required by states on sales by MJPM outside of Oregon is the sole responsibilty of the buyer.
All sales are final on special order items.
Our checks/payments are mailed by U.S.P.S. at no charge. MJPM assumes no responsibility or liability for lost payments or slow/delayed delivery mailed payments via the United States Postal Service. We do offer alternative U.S.P.S. Priority payment for an additional $15.00 fee.
All orders are shipped by United States Postal Service (U.S.P.S.) Registered mail and are fully insured. In the very rare event of a lost package, a claim with U.S.P.S. is required to track the transfer sequence of the package. A lost package requires a search time of 30 days. MJPM will not send out a replacement package until a final settlement has been concluded with the U.S.P.S. (30-45 days) after filing of a claim.
Will Call orders not picked up at MJPM within five (5) days of notification from MJPM for pick-up at our MJPM store will be charged $100 dollars at 4:30 p.m. of the conclusion of the fifth day. Effective on the sixth day, a charge of $15.00 per day will be assessed. MJPM storage ends after fifteen (15) days from the day of our notification to the customer for order pickup. On the fifteenth (15) day at 2:30 p.m., at our discretion, your order may be sold back to MJPM at the current market price and funds held for your pickup. MJPM assumes no liability, what-so-ever, for your order storage at MJPM. We are not a depository or want to be your personal vault.
All purchasers must be of legal age or have the permission of their parent or guardian.
The venue location for all disputes is agreed to be held in Corvallis, Benton County, Oregon.
RARE COINS & CURRENCY
Credit card charges are non-refundable on all rare coin, currency and coin jewelry purchases.
All uncertified/raw coins are sold with an unconditional five day return policy from the day of delivery on the purchase price. All sales are final on Pre 1933 U.S. gold coins due to gold market fluctuations.
Any transaction involving a "negotiated price" is considered a final sale.
All rare coin and paper money returns must be in our original, un-tampered holder and must be accompanied with the original sales invoice. Any item removed from its holder is non-returnable.
A return to MJPM Inc. is the sole responsibility of the buyer. All collectible rare coin and paper money items are guaranteed genuine. All items are subject to prior sale.
If we can answer any questions regarding our return policy for rare coins and paper money, please call 1-800-279-4337 for assistance.
About Us
Since 1985, we have been taking care of our customers in the Pacific Northwest including Corvallis, Albany, Portland, Lebanon, Salem, Eugene, Bend, Redmond, McMinnville, Roseburg, Medford, Newport, Tillamook, Kaiser, Lincoln City and throughout North America with personal service, the best prices and products!