Why you should buy Pamp Suisse and JM platinum and palladium bars and coins.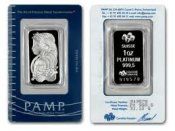 BUY PLATINUM COINS AND BARS!
Platinum and palladium one troy ounce bars and coins are an excellent choice for investment.
We have all noticed the price difference between gold and platinum. Did you know that platinum is roughly 600 times more rare than gold? We have been encouraging our clients to buy positions in both platinum and palladium.
We recommend buying the Pamp (Swiss) or JM platinum and palladium bars.
Both are state of the art products that offer the best value per troy ounce. Each bar has a unique serial number and comes hermetically sealed in a hard plastic card.
Buy American Platinum Eagles if you prefer legal tender platinum coins.
They have the best tax advantage over most other products. Call us if you have questions regarding what platinum product may be the best choice for you.
MJPM...your trusted platinum and palladium dealer for buying and selling American eagle platinum coins, Suisse Pamp bars, Maple leaf, platinum and palladium bullion and precious metals trading since 1985!